MVC Overview
MVC Key Data
Ownership
Amerigo owns 100% of MVC
Commodity
Copper plus molybdenum
Location
Central Chile, 90 km south of Santiago
Life of operation
1992 to at least 2037
Deposit type
Tailings from Codelco's El Teniente underground mine

El Teniente fresh tailings
Cauquenes and Colihues historic tailings

Mining/extraction method

Hydraulic extraction of historic tailings
El Teniente delivers fresh tailings to MVC

Mineral processing method
Conventional grinding and flotation to produce concentrates
(El Teniente is responsible for final tailings impoundment)
Inferred mineral resource
1,178,547,115 tonnes at 0.159% Cu and 0.010% Mo
Recoverable metals

1.5 billion recoverable copper
38 million pounds recoverable molybdenum

2018 production

65 million pounds copper at cash cost of $1.56/lb Cu
1.9 million pounds molybdenum

2019 production estimate

80 to 85 million pounds copper at cash cost of $1.30 to $1.45/lb Cu
2.8 million pounds molybdenum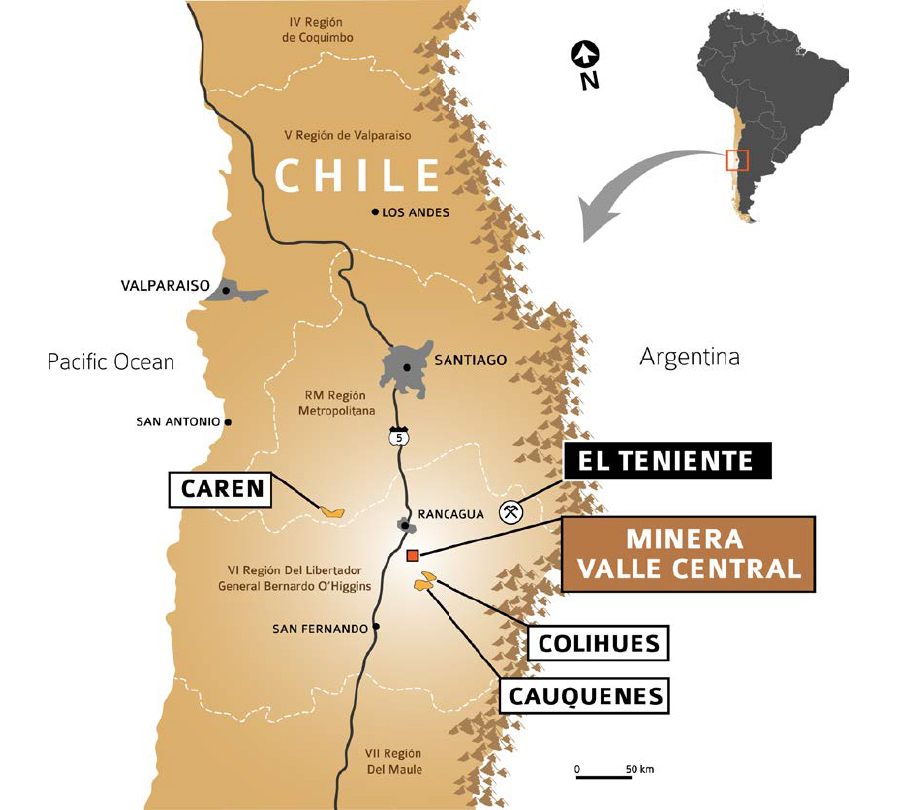 Growing Production
Production growth is through extraction of higher grade Cauquenes historic tailings deposit and improvement of the flotation recovery efficiency at the MVC plant.
Production ramping up to 65 to 70 million pounds of copper in 2018
Cash cost dropping to between $1.45 and $1.60 per pound copper in 2018
Planned expansion to deliver 85 to 90 million pounds of copper per year
Established Technology and Expertise at MVC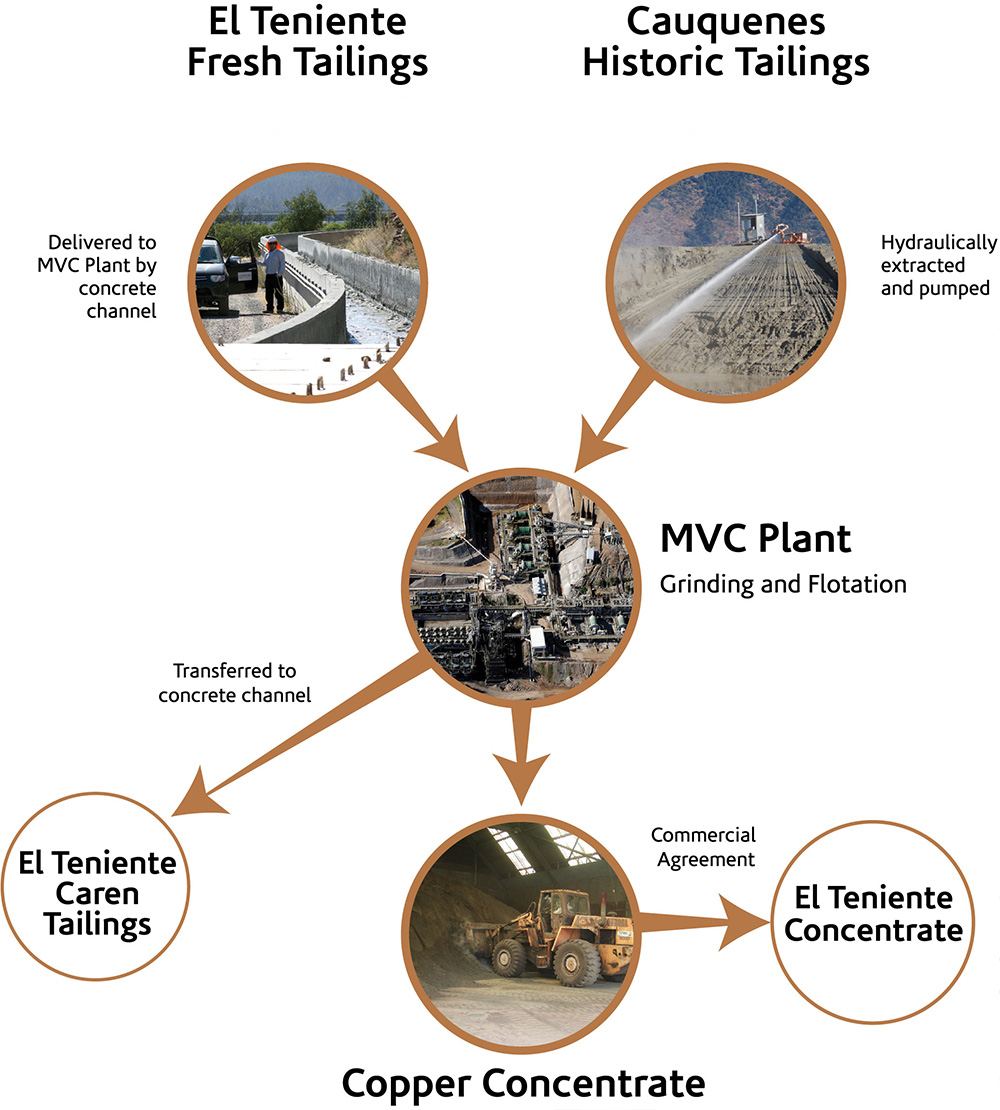 Historic Tailings – Hydraulically Extracted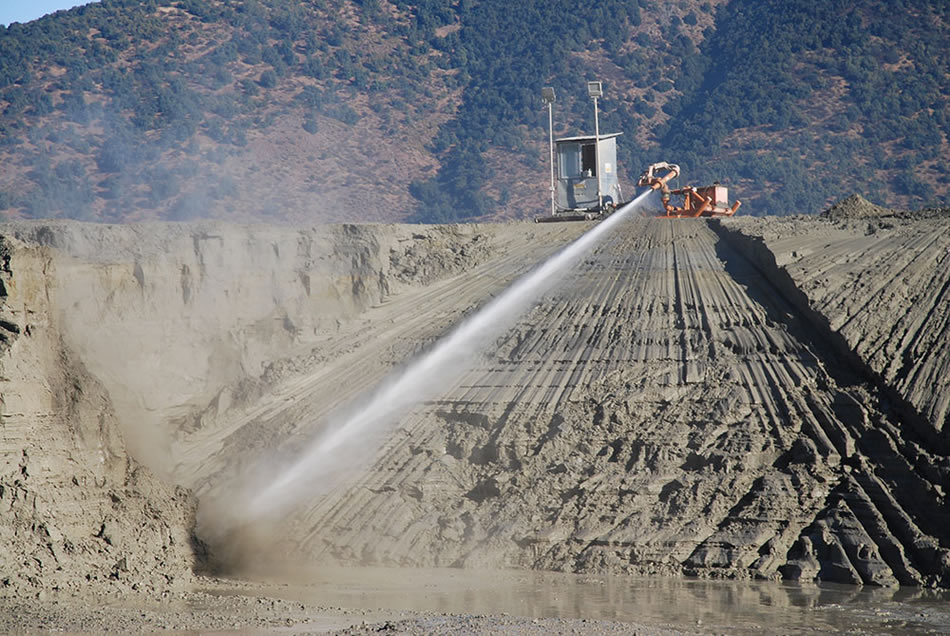 The MVC operation is located near two historic tailings deposits: Cauquenes and Colihues. The Cauquenes tailings were deposited by El Teniente over the period 1936 to 1977 and the average copper grade of the deposit is 0.27%, significantly higher than the fresh tailings material. In December 2015, Amerigo completed the first phase of development of Cauquenes with the installation of the necessary infrastructure and pumping systems to deliver Cauquenes tailings to the existing MVC plant. In December 2018, the second phase was completed delivering the new plant required to improve flotation recovery efficiency for copper and molybdenum. The tailings are hydraulically extracted using high pressure water and pumped to the plant at a rate of 60,000 tonnes per day. MVC processed the Colihues historic tailings deposit from 2003 to 2015, and processing of Colihues is expected to be restarted in 2034 when the Cauquenes deposit is depleted.
Fresh Tailings - Transported by El Teniente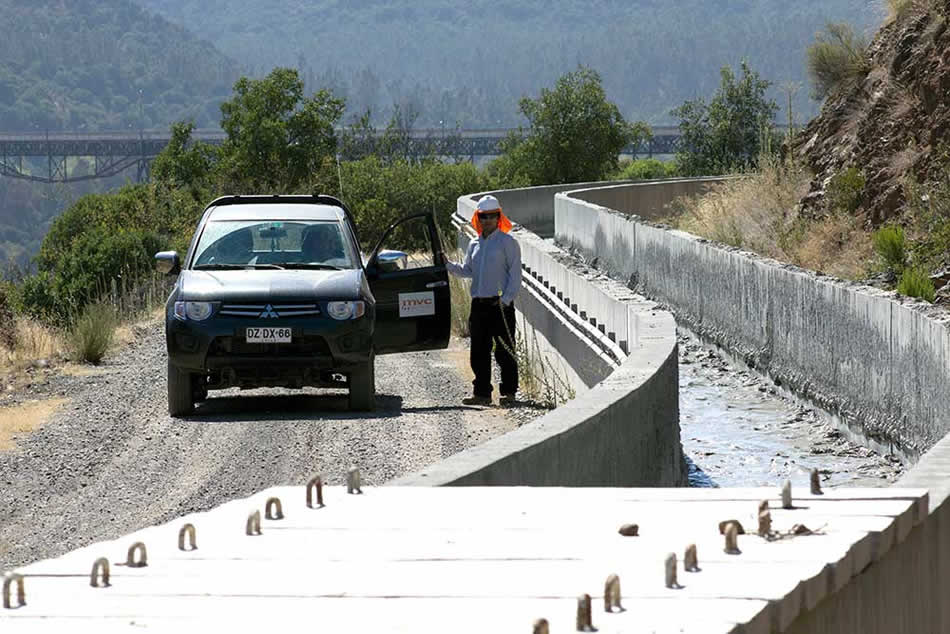 El Teniente delivers fresh tailings with an average copper grade of 0.12% to the MVC plant at a rate of 130,000 tonnes per day. The fresh tailings travel 40 km in an open concrete channel owned by El Teniente. No energy is required as the tailings flow by gravity. MVC has been processing fresh tailings since 1992.
MVC Processing Plant – Producing High Quality Copper Concentrate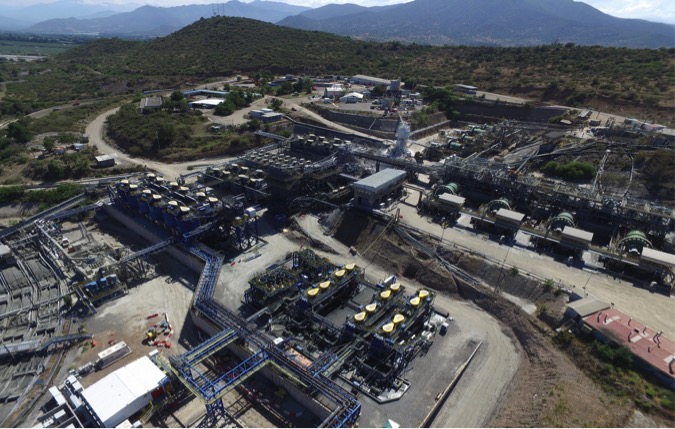 The MVC plant processes fresh tailings and Cauquenes historic tailings from El Teniente. The processing plant consists of grinding and flotation to recover copper concentrates. The plant employs primary cyclone classification to separate the tailings into coarse and fine fractions. The Cauquenes fine fraction is processed in a recently constructed conventional flotation cell circuit followed by an unconventional scavenger cascade flotation cell circuit. The coarse fraction is ground in ball mills to reduce particle size and then is processed in conventional rougher and cleaner flotation circuits to produce a sulphide concentrate. Once the tailings have been processed at MVC, they are returned to the concrete channel and flow 50 km to El Teniente's Caren tailings impoundment. Tailings volumes in excess of the channel capacity to Caren are deposited by MVC in the Colihues tailings impoundment.
MVC produces high-quality copper and molybdenum concentrates with minor silver credits and no penalty elements.
Long Term Partner – World's Largest Underground Copper Mine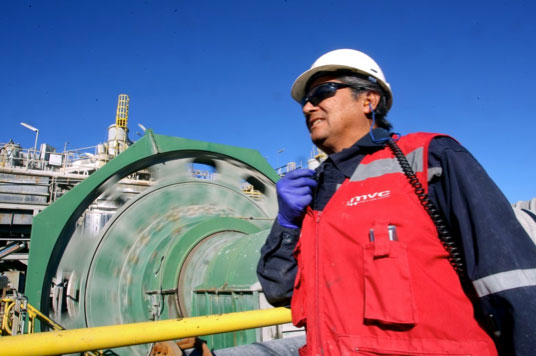 Amerigo, through its 100% owned MVC operation, produces copper concentrates under a long term relationship with Codelco's El Teniente, the world's largest underground copper mine. El Teniente commenced copper production in 1904 and a new mine level project currently under construction is expected to extend the mine life by 50 years.
MVC has contracts with El Teniente to process fresh and historic tailings generated from the El Teniente mine. As of 2015, MVC's copper concentrates are produced under a tolling agreement with El Teniente.
In 2014, MVC was granted the rights to process the Cauquenes historic tailings deposit and the term to process fresh tailings was extended from 2021 to 2037. In exchange for the tailings rights, El Teniente is entitled to a royalty on copper produced by MVC, determined through a sliding scale formula tied to the London Metal Exchange copper prices.
The MVC operation is located in central Chile, 8 km east of the city of Rancagua and 90 km south of Chile's capital, Santiago. The operation is located at an elevation of 650 m above sea level with a Mediterranean-type climate characterized by long, warm, dry summers (eight months) and mild, rainy winters (four months). The MVC plant is located 40 km southwest of the El Teniente mine and 6 km northwest of the Cauquenes historic tailings deposit.